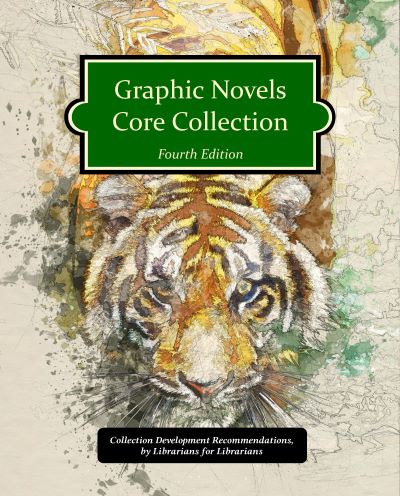 Graphic Novels Core Collection

Graphic Novels Core Collection (4th Edition)
Hardcover
ISBN: 978-1-63700-246-9
1,000 pages
Pub. Date: December 2022
Price: $295.00
Graphic Novels Core Collection (3rd Edition)
Softcover
ISBN: 978-1-64265-647-3
1,000 pages
Pub. Date: January 2021
Price: $295.00
Purchase this Edition
Description
Related Products
For over 50 years, H.W. Wilsonís Core Collections have been librariansí must-have guide to the best fiction and non-fiction works for all types of collections. We are proud to announce the fourth edition of Core Collection: Graphic Novels.
In the past ten years, the popularity of graphic novels has grown exponentially. In many libraries, graphic novels have become one of the most widely circulated genres. Plus, graphic novels can energize reluctant readers and have been shown to be a productive educational tool, especially with ESL readers.
Due to the growing popularity of graphic novels at all age levels, and the overwhelming influx of new titles on the market, librarians need more guidance than ever to select the best graphic novels for their collection.
H.W. Wilsonís new Graphic Novels Core Collection (4th Edition, 2022) provides expert recommendations, developed by H.W. Wilsonís team of library and media specialists. Whether for collection development, collection maintenance, readersí advisory, or curriculum support, Graphic Novels Core Collection provides the sound guidance that librarians need so they can rest assured that they are selecting materials that will best serve their collection and their patrons.
This fourth edition includes nearly 2,500 book titles at the Most Highly Recommended and Core Collection recommendation levels. A star at the start of an entry indicates that the book is a "most highly recommended" title. These titles constitute a shortlist of the essential books in a given category or on a given subject. Each title includes content descriptions and quotes from selected reviews. The graphic novels in this collection cover a wide variety of genres including adventure, biography, fantasy, superhero, horror, mystery, romance, science fiction, and more.
All books listed are published in the United States, or published in Canada or the United Kingdom and distributed in the United States. The Core Collection excludes non-English-language materials, with the exception of bilingual materials. It does include English-language translations of international material, including Japanese manga, Korean manhwa, Franco-Belgian comics, and others.
Arranged by Age Group
In order to best facilitate collection development for age-appropriate content, Graphic Novels Core Collection is arranged into groupings by grade level. Standards for rating materials by age appropriateness are strictly applied. Listings also offer notes on specific grade level indicators.
PreK through grade 5
grades 6-8
grades 9-12
Adults
Detailed entries in Graphic Novels Core Collection include:
Complete Bibliographic and Cataloging Data
Content Description & Annotations from Select Reviews to help facilitate title selection and readersí advisory
Subject Headings, Price, ISBN, Grade Level Classification
ďEssentialĒ titles, our highest recommendation level, within subject areas are easily identified with a starred listing
Many titles include Cover Art
Three Informative Indexes
Three indexes are provided, Author Index, Title Index and a highly-detailed Subject Index that allows users to select titles based on hundreds of different subject areas.
Books included in this edition were selected by experience collection development librarians representing public, academic, and school libraries across the United States who also act as a committee of advisors on library policy and trends. The names of participating librarians and their affiliations are listed in the Acknowledgements.
The Graphic Novels Core Collection takes the guesswork out of selecting in this ever-expanding genre. It is an essential resource for library and media specialists looking to energize, enhance and enrich their collection with the most important and highly recommended graphic novels available.