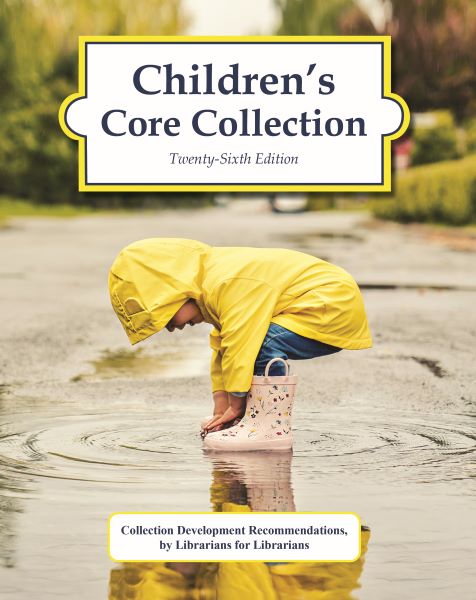 Children's Core Collection


Children's Core Collection (26th Edition)
Hardcover
ISBN: 978-1-63700-509-5
One Volume; 3,400 pages
Pub. Date: August 2023
Price: $240.00
Children's Core Collection (25th Edition)
Softcover
ISBN: 978-1-64265-804-0
1,000 pages
Pub. Date: January 2022
Price: $240.00
Purchase this Edition
Description
Related Products
The Children's Core Collection is a comprehensive guide to 15,000 recommended books for children from preschool through grade six. In this information-packed volume, users will find bibliographic data, content descriptions and reviews of 15,000 highly recommended titles, including Picture Books & Easy Readers, Story Collections, Fiction Books, Nonfiction Books, Biographies, and Graphic Novels.
"This resource is indispensable for librarians and school media specialists involved with collection development and user advisory services." -CHOICE
Coverage also includes Library Science titles specifically addressing children's librarianship and collection development for the age group. Plus, users will also find a helpful Appendix of Caldecott and Newbery Award Winners.
New & Expanded Coverage
Thousands of new titles have been added to this edition. In addition, particular attention has been paid to increase coverage in the areas of Science, Technology, and Social Sciences.
Created by Librarians, for Librarians
Titles are selected by an editorial team of experienced librarians-all of them experts in library services for young readers.
Bibliographic Data, Plus Content Descriptions & Reviews Individual entries provide a wealth of much-needed information at a glance.
Complete Bibliographic & Cataloging Data
Price, ISBN and Publisher Data make purchasing titles quick and easy
Suggested Subject headings, Grade Level & Dewey Classification
Content Descriptions & Quotations from Select Reviews are incredibly useful when evaluating books to add to your collection and for readers' advisory.
Additional data on sequels, awards, and publication history.
Over 3,200 "Most Highly Recommended" titles within subject areas are easily identified with a starred listing
Easy-to-use Arrangement
Nonfiction books, includes over 7,500 notification titles, arranged by Dewey Decimal Classification. All subjects are covered, including Animals, Art, Humor, Computers, Health, History, Science, Sports, Technology, and more.
Easy Books, arranged by author, offers over 4,000 recommended picture books of interest to children from preschool to grade three.
Fiction, arranged by author, recommends 2,500 of the best fiction for children.
Story Collections, arranged by author, highlights close to 100 of the best story collections for public libraries and elementary schools.
In-depth Indexing
An in-depth Author, Title, and Subject Index provides users with thousands of ways to navigate this rich collection of recommended titles. Whether searching by author, title, or by one of the hundreds of subject areas found in the index, librarians can easily locate titles that will round out their collection.
The Children's Core Collection is an essential resource for library and media specialists looking to enhance their collection with the most important and highly recommended titles currently available. Any children's librarian will benefit from having this amazing collection of recommended titles at the ready to help build and strengthen their collection.