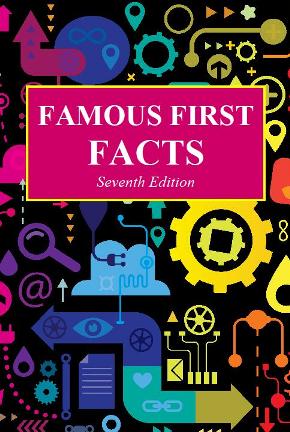 "Perfect for trivia buffs or scholars seeking facts; a highly recommended staple for public libraries and American history collections."

- Library Journal
Famous First Facts


Famous First Facts, 7th ed.
Hardcover
ISBN: 978-1-61925-468-8
1,400 pages
Pub. Date: March 2015
Price: $195.00
Famous First Facts, 6th ed.
Hardcover
ISBN: 978-0-8242-1065-6
1,300 pages
Pub. Date: December 2006
Price: $185.00
Description
Related Products
Famous First Facts informs and entertains with over 8,000 fascinating "firsts" in history.
Last published in 2006, this new update is filled with new information and key facts from 2007 to 2014.
For more than half a century, Famous First Facts has earned the accolades of reviewers and a place on library reference shelves nationwide. This new edition of the reference classic is updated and expanded with new entries reflecting the latest developments and discoveries, and newly organized for easier access to information.
The seventh edition includes more than 8,000 firsts, with more than 1000 that are new to this edition. Fields updated include science and technology, military history, and politics, describing events that have occurred since the 2006 edition.
Updates of existing entries based on new developments and discoveries.
Hundred of images of the individuals, inventions, and moments that are new firsts.
New sidebars highlighting history-changing firsts and other information of particular interest.
Covers firsts from 10,000 B.C. to 2013, the date of the earliest human artifacts found in America
A main subject index, plus geographical, name, year, and day indexes, offer researchers direct access to every included fact.
A Famous First Facts Sampler:
Canning of food was introduced in 1819 by Ezra Daggett and his nephew, Thomas Kensett, who canned salmon, oysters, and lobsters in New York City. On January 19, 1825, they obtained a patent to "preserve animal substances in tin." The vacuum canning process was invented in 1872 by writer and spiritualist Amanda Jones of Buffalo, NY, who received nine patents on it. Her company, the U.S. Women's Pure Food Vacuum Preserving Company, founded in 1890, produced canned pudding and lunch meat.
Movie to be shown on a television screen was Alexander Korda's The Return of the Scarlet Pimpernel, a 1.5-hour film shown by NBC on May 31, 1938. The image was 7 by 10 inches. Preceding the film, five actors produced a 20-minute play for children entitled Sauce for the Gander.