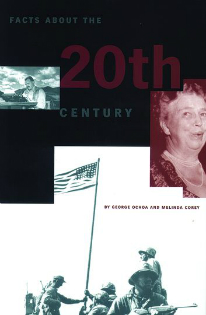 "A compact, browsable work with extensive coverage and an appropriate addition to most library collections.""

- Reference Books Bulletin
Facts About the 20th Century

Hardcover
ISBN: 978-0-8242-0960-5
1,004 pages
Pub. Date: March 2001
Price: $145.00
Description
Related Products
An expansive single-volume reference combining the features of a chronology, encyclopedia, and almanac.
This ambitious work covers not just trivia but essentials, not just the familiar but also the little-known, not just the local but the global. "It is not a record of any one country's 20th century, but of every country's, and of the great worldwide events and trends that affected them all," promises the introduction.
Chapter one contains a timeline from 1900 to 1999, highlighting the most important milestones in every area of human activity around the world, from culture to politics to science to sports.
Chapter two is an extensive listing of more than 300 selected events, movements, trends, and concepts that defined the century.
Chapter three contains concise biographies of 900 of the most important people of their times, including artists, philosophers, generals, and presidents.
Finally, Chapter four is a brief 20th-century history of every nation on earth, from Afghanistan to Zimbabwe, along with a chronology of leaders and other information. The main text is supplemented with charts, such as a list of all Nobel Prize Winners and battle and casualty tables for World Wars I and II. Cross-references also aid researchers. Two indexes complete the book: a traditional subject index and a year index.
Over 40 charts supplement the text including:
Locations of Olympic Games
Academy Awards 1927-1999
Nobel Prize winners 1901-1999
AIDS deaths in the U.S. from 1981-1996
World's 10 busiest airports
Poverty status for U.S. blacks and whites, 1959-1990
U.S. Households with one or more computers
Unemployment rate in the U.S. civilian labor force, 1920-1950
Annual death rates in the U.S., 1900-1990
World population totals, 1900-1996
Most popular films in the U.S. by decade
U.S. Federal programs established during the New Deal
First countries to have television
Vietnam War deaths