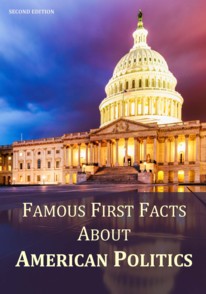 Famous First Facts About American Politics, Second Edition


Hardcover
Pub. Date: July 2017
ISBN: 978-1-68217-466-1
800 pages
Price: $195.00
Description
Related Products
Famous First Facts About American Politics covers the memorable elections, public figures, political parties, legislation and administrations that have contributed to the rich history of the United States. This is an essential resource for historians, students, scholars, librarians, and teachers who need comprehensive, authoritative and accessible information about American politics.
Last published in 2001, this Second Edition adds hundreds of significant "firsts" from the last 15 years. From the election of the first African American president in 2008 to the first woman to accept a major-party Presidential nomination in 2016, this new edition brings together information that will engage, inform and educate students and researchers interested in American politics.
Famous First Facts About American Politics contains more than 4,000 entries under subjects ranging from the American Revolution to Women in Politics. It covers the full political history of the United States from the founding of the Iroquois Confederacy sometime before the year 1550 to historic firsts of today, including the first Pontiff to address a joint session of U.S. Congress (2015), the first time a President mentions "transgender" in the State of the Union Address (2015), the first U.S. city to mandate paid parental leave (2016, San Francisco), and the first U.S. city to pass a tax on sweetened drinks (2016, Philadelphia).
This edition also adds a new category, Women in Politics, that highlights the first woman to run for Congress (1866), the first woman elected to Congress (1916), the first woman on the Supreme Court (1981), and the first woman Speaker of the House (2007).
Organized in the same manner as it predecessors in the Famous First Facts series, Famous First Facts About American Politics assembles related entries under broad subject categories and sub-categories. Within each category or sub-category, entries are arranged chronologically. Take a look at the wide variety of topics in this comprehensive, thought-provoking resource:
American Revolution
Cabinet
Capitol
Cities & Counties
Civil War & Confederacy
Congress
Constitution
Equality
Finance
International Relations
Military
Native Americans
Political Movements
Political Parties
Population

Presidential Elections
Presidents
Resource Management
Slavery
Supreme Court
Taxation
Vice Presidents
White House
Women in Politics and more
Five different indexes—by subject, year, month and day, personal name and geographical location—make it easy to access information, carry out research and find answers to specific questions.
Our goal has been to afford readers a new way of understanding the rich history of elections, parties, and governments in the United States. For historians, students, scholars, librarians, and teachers, this is a comprehensive information source, and the perfect first stop for political research.