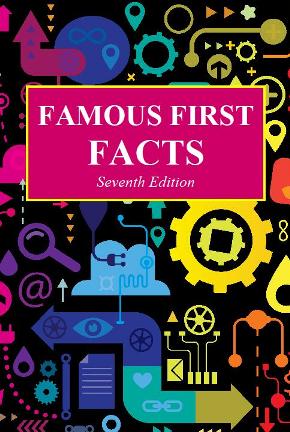 "Perfect for trivia buffs or scholars seeking facts; a highly recommended staple for public libraries and American history collections."

- Library Journal
Famous First Facts

Famous First Facts, 7th ed.
Hardcover
ISBN: 978-1-61925-468-8
1,400 pages
Pub. Date: June 2014
Price: $185.00
Famous First Facts, 6th ed.
Hardcover
ISBN: 978-0-8242-1065-6
1,300 pages
Pub. Date: December 2006
Price: $185.00
Description
Related Products
Famous First Facts informs and entertains with over 8,000 fascinating "firsts" in history.
Last published in 2006, this new update is filled with new information and key facts from 2007 to 2014.
For more than half a century, Famous First Facts has earned the accolades of reviewers and a place on library reference shelves nationwide. This new edition of the reference classic is updated and expanded with new entries reflecting the latest developments and discoveries, and newly organized for easier access to information.
The seventh edition includes more than 8,000 firsts, with more than 1,000 that are new to this edition. Fields updated include science and technology, military history, and politics, describing events that have occurred since the 2006 edition.
Updates of existing entries based on new developments and discoveries.
Hundred of images of the individuals, inventions, and moments that are new firsts.
New sidebars highlighting history-changing firsts and other information of particular interest.
Covers firsts from 10,000 B.C. to 2013, the date of the earliest human artifacts found in America to 2014
A main subject index, plus geographical, name, year, and day indexes, offer researchers direct access to every included fact.
A Famous First Facts Sampler:
The first Zoo was discovered by an archaeological expedition in Egypt in 2009. Scientists excavating the ancient Egyptian capital of Hierakonpolis found 112 buried skeletons, including 11 baboons, 10 dogs, six wildcats, three hippopotamuses, and two elephants. The expedition was led by American archaeologist Renee Friedman. Friedman's team believes the collection existed around 3,500 B.C. At the time, Hierakonpolis, settled by 4,000 B.C., was Egypt's largest urban area. The animals were buried in the same cemetery as rulers and their families and showed signs of being held in captivity.
The first Transgender mayor of a U.S. city was Stu Rasmussen, of Silverton, OR, a town of about 9,500 people. A lifelong resident of Silverton, Rasmussen won election in 2008 with 52% of the vote. Rasmussen began his political career when he was elected City Councilor in 1984, served two terms as mayor beginning in 1988, and returned to the City Council in 1992. Rasmussen received breast augmentation and started dressing in female clothing full-time in 2000 before winning election to the City Council again. Rasmussen said that by becoming openly transgender, "I've blackmail-proofed myself."
The first woman to command the International Space Station was Peggy A. Whitson, Ph.D. Whitson took command of the station on October 10, 2007. Born in Mount Ayr, IA, Whitson worked as a research biochemist for NASA beginning in 1989. She was chosen as an astronaut candidate in April 1996 and began training in August of that year. Whitson completed her first six month tour aboard the International Space Station in 2002. Her role as commander ended on April 19, 2008. Between these two tours, Whitson accumulated a total of 377 days in space, the most for any woman.