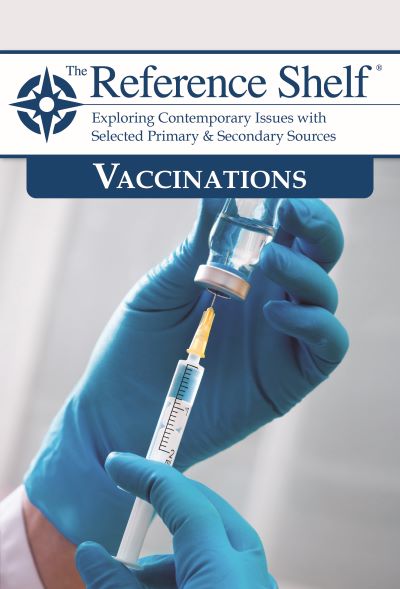 Reference Shelf: Vaccinations

Softcover
ISBN: 978-1-64265-793-7
172 pages
Pub. Date: October 2021
Price: $75.00
Description
Related Products
While most Americans participate in vaccination, for a small number of Americans, vaccination is perceived as a threat and possibly even a conspiracy. This volume of The Reference Shelf looks at the history of vaccination as well as the regulation and administrative processes surrounding the creation and dissemination of vaccines. The cost and availability of vaccines in American communities is examined, as well as laws regarding childhood vaccination and access to schooling and other public facilities. Illnesses and other medical controversies related to the industry, and the emergence of the science skepticism/anti-vaccine movement that continues to influence American popular thought, is examined. This volume looks at how vaccines and the anti-vaccine movement have evolved with America and how this interplay of politics and personal liberty continues to impact American public health.
This volume begins with a preface; a brief history of vaccinations and how vaccines are perceived in American culture as well as the politicization of vaccines and the debates surrounding them. Vaccinations includes articles, documents, and other literary works that fall into five topics:
Vaccination and Pandemics
Vaccine Access
Vaccination Hesitancy
Business of Vaccines
Vaccines and Personal Liberty
Together, this information provides thoughtful, comprehensive coverage of vaccinations and how the discussions surrounding it have come to be such pressing debates in modern times.