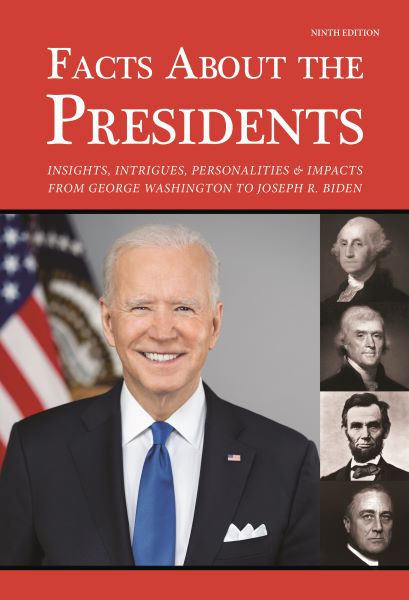 "Remains a standard of excellence for readers who never tire of learning things about American presidents and for researchers who want a well-organized and up-to-date source on the topic."

- Library Journal
Facts About the Presidents

9th Edition, Hardcover
ISBN: 978-1-64265-895-8
816 pages
Pub. Date: January 2022
Price: $195.00
Description
Related Products
The authoritative source for information about the lives, backgrounds, and terms of office of every American president, from George Washington onward.
Wilson's acclaimed Facts About the Presidents continues with its much-anticipated Ninth Edition. Written for both general readers and researchers, this volume will be one of the most widely consulted works in your reference collection. The new Ninth Edition of Facts About the Presidents delivers comprehensive data about every American president, from George Washington to Joe Biden, plus facts about the Executive Office itself.
In addition to the intensive coverage of past presidents, this volume contains:
Extensive and authoritative facts about the early White House tenure of President Joseph R. Biden.
The most up-to-date knowledge available, relying on the latest scholarship.
A complete and compelling portrait of the nation's highest office and the men and women who have held or sought it over the years.
Last published in 2009, this new edition includes extensive and authoritative facts about each president, including both terms of President Barack Obama, President Donald J. Trump's single term, and the inauguration and early White House tenure of Joseph R. Biden, 46th president and winner of the 2020 Presidential election. Part I presents a chapter for each president in chronological sequence, featuring data on the president's background, life, and administration. Here you'll find uniformly arranged data on birth, family, education, nomination and election, congressional sessions, cabinet and Supreme Court appointments, vice presidents, first ladies, and more-plus highlights of both the personal and political nature. Bibliographies guide readersto additional information on each president.
Part II presents over 200 pages of fascinating statistics in a collective arrangement so that a reader can compare presidents on the basis of such matters as early career, previous political career, type of education, military experience, family background, religious affiliation, age at death, literary output, and other factors.
Part II also delivers important facts about the office of the presidency, including salaries and pensions, cabinet officers, party alignments of the Congresses, presidential vetoes, electoral and popular votes in every election since 1789, third-party electoral votes, presidential succession, and the many other facets of the job. The volume also features a handy name/subject index to make it easy to pinpoint exactly the information you need.