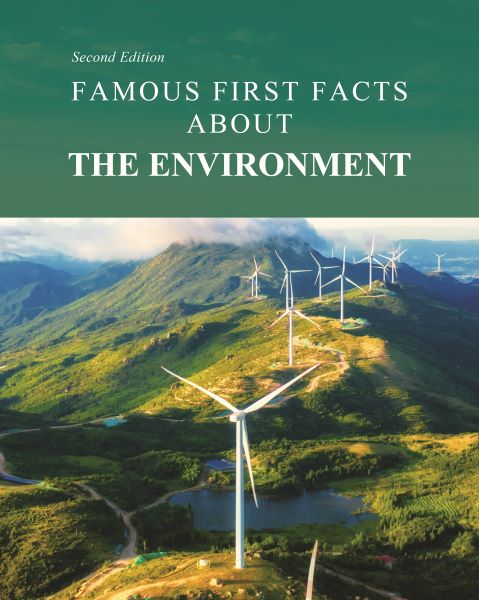 Famous First Facts About the Environment

Hardcover
ISBN: 978-1-63700-514-9
600 pages
Pub. Date: September 2023
Price: $195.00
Description
Related Products
Famous First Facts About the Environment provides readers with a record of important and interesting environmental firsts and presents them in a global perspective. These entries are designed to encourage further research and discovery, so they can deepen their understanding of issues related to the environment.
Using the popular Famous First Facts style, this new second edition adds a significant number of environmental firsts since the first edition was published over 20 years ago, to bring coverage into the twenty-first century. It is the most comprehensive volume of global environmental "firsts" available.
The entries in Famous First Facts About the Environment demonstrate that the environment has always been a topic of concern for people around the world. Climate change, renewable resources, electric vehicles, and natural resources are front and center on the minds of today's global citizen, so the need for environmental facts is great.
The goal of Famous First Facts About the Environment is to cover not only the obvious environmental firsts, but to also include entries on topics not found in other environmental reference works. The diversity of subjects covered in this volume include:
Activist Movements
Biodiversity
Climate & Weather
Hazardous Waste
Land Use & Development
Nuclear Power
Water Supply
Wildlife
Famous First Facts About the Environment includes more than 4,500 entries, organized by main subject heading and helpful subheadings. Within each category or subcategory, entries are arranged chronologically.
Five indexes help the readers find specific entries with ease: Subject Index, Index by Year, Index by Month and Day, Personal Name Index, and Geographical Index.
Famous First Facts About the Environment traces humanity's increasing concern about the welfare of the environment and chronicles the crucial events in the history of the planet from ancient times to the present. Subject index to make it easy to pinpoint exactly the information your readers need.