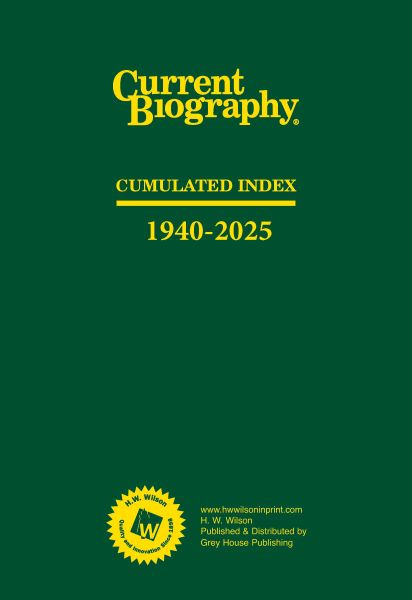 Current Biography Cumulated Index, 1940-2021

Hardcover
ISBN: 978-1-64265-807-1
800 pages
Pub. Date: December 2021
Price: $199.00
Description
Related Products
This edition covers the years from 1940 through 2021, and cumulates and supersedes the previous edition, Current Biography Cumulated Index, 1940-2017. The reader will need to only consult this index in order to locate a name that appeared in the previous 82 volumes of Current Biography. The dates after the names indicate the monthly issue(s) and yearbooks containing the biographies and obituaries.
In addition to the alphabetical name index, this edition includes a Profession Index. The Profession Index lists the over 21,000 subjects by more than 850 professions—from AIDS activists to Zoologists. A subject is listed under as many professions as their biography profiles.
The Current Biography Cumulated Index makes it easy to find biographies of individuals profiled from the first edition published in 1940. With both a Name Index and an Index by Profession, this time-saving tool will quickly direct researchers to the Yearbook in which the biography appears. A must-have source for all subscribers to Current Biography.