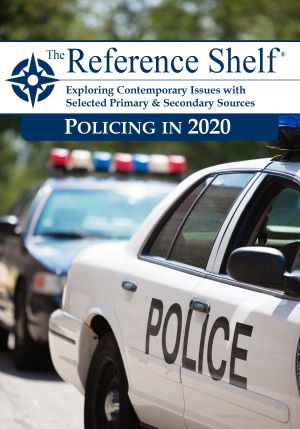 Reference Shelf: Policing in 2020

Softcover
ISBN: 978-1-64265-789-0
172 pages
Pub. Date: February 2021
Price: $75.00
Description
Related Products
Law enforcement is one of the most difficult, challenging, and controversial roles in American society. This volume of The Reference Shelf looks at the challenges facing police, from funding and staffing shortages to the influence of political polarization. The changing public perception of police and calls for reform will also be examined. The controversial "Defund the Police" and "Black Lives Matter" protests against police brutality will be covered, while other articles will explore policing and immigration enforcement, mental health and de-escalation training, and law enforcement during civil rights protests. Also explored will be the ways in which the onset of COVID-19 has changed policing and how these changes might impact the future of policing after the pandemic.
This volume begins with a preface; an overview of the topic including explanation of the state of policing in America, as well as the structural problems and issues of perception and public opinion. Policing in 2020 includes articles, documents, and other literary works that fall into five topics:
The Police Force
Policing in Place
Plague Policing
Training Days
Steps Toward Reform
Together, this information provides thoughtful, comprehensive coverage of policing and how it has come to be such an important and controversial issue in modern times.