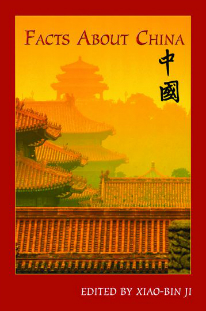 "Seminal, and very highly recommended contribution to Chinese Studies reference collections."

- Midwest Book Review
Facts About China

Hardcover
ISBN: 978-0-8242-0961-2
767 pages
Pub. Date: June 2003
Price: $120.00
Description
Related Products
A fascinating look at the important events in Chinese history
With its rapidly growing economy and the world's largest population, China is increasingly important on the international stage. Providing a wealth of information on every aspect of China in an easy-to-use, accessible format, this up-to-date, in-depth reference tool presents substantive essays grouped in sections:
Geography & Climate-topics include China's administrative regions, landforms, the weather and climate, various plants and animals, the land's natural resources and the human impact on the environment.
People & Languages-includes population characteristics, including charts on population density and population among ethnic groups. Also included is a brief history of the Han Chinese, a discussion of china's growing population and the efforts to control it through population control programs, the Chinese language and writing system and language reform
Systems of Thought & Belief-topic headings include The Shang Dynasty, the Zhou Dynasty, The Early Imperial Era, Popular Belief and Religious Activity, Chinese Buddhism and Thought & Religion.
Health & Medicine-discusses the history of health and medicine from the ancient period through the arrival of western medicine.
Arts, Entertainment & Sports-includes subject headings of Architecture, Sculpture, Painting, Calligraphy, Music, Dance, Drama, Sports and Other Forms of Entertainment.
Literature-discusses early forms of literature and how literary forms have changed over history. Includes a section on 20th century literature.
Science & Technology- discusses scientific breakthroughs and technological innovations throughout China's history.
Economy & Trade-discusses economy and trade in early and late Imperial China, the banking and monetary system, economic planning, planned industrialization and international trade and foreign investment.
Institutions Governing Chinese Society- contains entries on the evolution of rulership in early China, the structure of Imperial government, traditional and foreign relations, the traditional family, reform and westernization, and the communist party.
In addition, Facts About China presents:
A 200 page historical chronology of important events in Chinese history.
A-Z listing of significant figures, movements, and ideas that inform the Chinese culture.
Profiles of influential individuals in Chinese history.
Information for visitors on culture and tourism.
Additionally, the volume's appendix presents a handy Pinyin to Wade-Giles pronunciation table, and a map of modern China. Bibliographies of sources for further research are included in each chapter, and an in-depth subject index completes the text.